Had you asked me only a month or so ago, would I ever write a blog about comfortable clothing for wearing at home, I probably would have scoffed and said, "who cares what you wear at home, as long as you make an effort when leaving home!"
Well, how things have changed. Now, more than ever we are seeking comfortable clothing to #stayathome because for most of us, we've got nowhere else to go. And if you need some convincing, just check the stock levels of your favourite retailers.
Not only do many now have 'sweats' as one of their clothing categories, many of the styles I wanted to share with you have SOLD OUT!
So whether you're working from home, in quarantine or self-isolating, you can still make an effort to look good and feel good. I'm a big fan of a comfortable sweater and trackie dacks when spending time at home, and I've found you a few of my faves (which may or may not be currently sitting in my shopping cart)
Camilla and Marc Dunning Hoodie $220
I wonder if the team at Camilla and Marc knew something we didn't? Only weeks ago they launched their very first active wear range, and increased their range of sweats and lounge wear. And who doesn't love to linger in a hoodie and sweat pants!
The Dunning hoodie is a classic style with the subtle C&M logo. Made of 100% cotton and available in grey, black, deep olive and white (perhaps white is not so practical for the days/weeks/months ahead)
Camilla and Marc OXFORD Track Pant $179
At this point in time, if you don't own a great tracksuit, then it's time! I love a good jogger style track pant like these from C&M. Again, made of 100% cotton means they're not only comfy, but easy to launder (cold machine wash, no dry cleaning or hand washing required)
Feathers Caribbean Pant $159.99
If you can't get your head around the trackie dack, then these stretch jersey relaxed joggers from Feathers might be more your cup of tea. Hmm, but which colour… khaki, black or navy? Enter discount code CLASSICS at the checkout for 30% off all Feathers Loungewear.
Country Road Boucle Logo Sweat $99.95
Country Road's logo tee's and sweaters have made a huge comeback this season. Again, it seems they may have pre-empted people's need for them? So much so, that most styles (i.e. the one's I actually wanted to recommend) have SOLD OUT! But this logo sweat in black and mint are available in all sizes. Made of 100% Australian cotton.
Country Road Track Pant $99.95
I love this biscuit colour in these track pants, but the matching hoodie is only available in size XXS. But if you love the pants like I do, you can wear them with your fave cotton white tee or a cream cashmere jumper.
Speaking of which… Jac and Jack Ledo Cashmere Sweater $299
This sweater is crafted in irresistibly soft cashmere. Cut relaxed and square through the body with flattering ribbed v-neck detailing and and slim sleeves. The feel of cashmere is soft on the skin and provides the warm without the bulk.
Uniqlo Cashmere Turtleneck $129.90
Cashmere is expensive, so if you're looking for a more affordable option and I can also vouch for the range from Uniqlo. I have this 100% cashmere turtleneck in delicious chocolate, perfect for when the autumn breeze really starts to kick in. It also comes in cream, grey marle, charcoal, yellow, camel and a few more!
Seed Acid Wash Terry Sweater $89.95 and Track Pants $69.95
Another clear reason that loungewear popularity is on the rise, is the availability (or lack thereof) of these drop crotch pants from Seed (only XL in stock) The current 25% off promo probably has something to do with it. However, the acid wash sweater is super cool and would work well over black track pants or the Decjuba joggers mentioned later in post.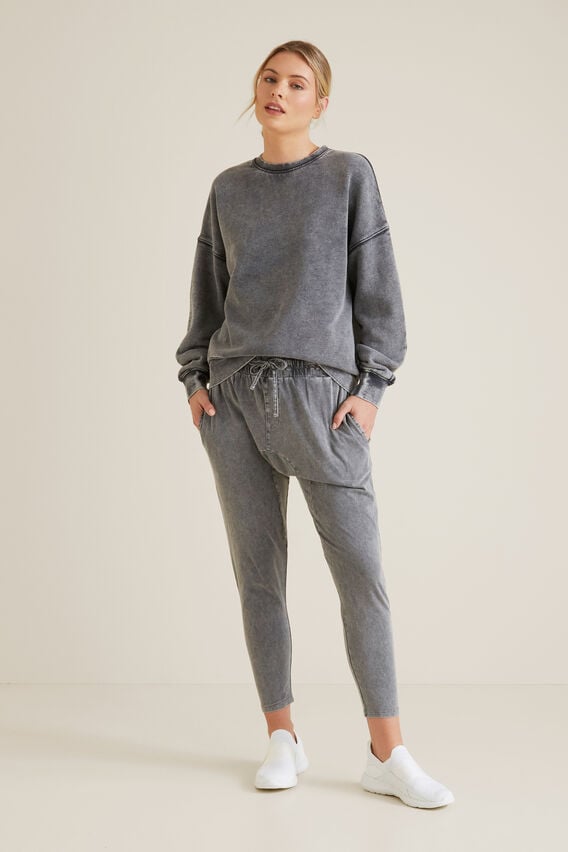 Decjuba Soho Embroidered Sweat $79.95
If you missed out on the Country Road Heritage sweaters (I did too) then this option from Decjuba ain't bad. Add some New York style to your #athome wear with this SOHO Manhattan sweater. Though you probably wouldn't want to be from NY at this point in time 🙁
This couldn't be a post about stylish, casual wear without an inclusion from my fave bassike. Bassike have been producing great organic cotton basics, made in Australia, for years (hence their name) and I've got quite a few myself to prove it.
bassike Slouchy Jersey Pant $140
The perfect drop crotch to leave you lounging in all day and night.. team with the luxurious striped waffle long sleeve tee for the closest thing you'll get to pyjamas without wearing pyjamas.
Stay safe everyone x