When I put the callout on Instagram for blog ideas, I had a feeling this topic would come up! I've probably resisted writing about puffer jackets as a way of showing my distaste for them. When I say that, I mean distaste for them being used for any other purpose than… well… skiing?
When Uniqlo first opened it's doors in Australia, I reckon every second person owned a black puffer jacket or vest within the first 3 months. Suddenly, we'd all forgotten how to wear a 'proper' winter coat, and succumbed to the puffer phenomenon!
But not me, I refused and resisted the urge. But that was then, and as the years passed I did buy a puffer coat (from Witchery of all places) for walking to and from Pilates ONLY, and I love it. Over time the humble puffer coat has indeed become more of a fashion statement with many brands buying into the trend.
So here we are today, April 2020 in ISO and I'm about to share with you my top picks for stylish puffer coats and vests… OK, if we must.
Uniqlo Cocoon Jacket $109.90 in a wide variety of colours
Well while we're here, we may as well start with Uniqlo for well priced puffers. I have this ultra light cocoon style (gifted) in ecru, and whilst I haven't worn it outside of the house just yet (for obvious reasons) I actually really like it. So much so I've been playing around with it, styling it with different combos in my wardrobe. Stay tuned to Insta for some style inspo.
Country Road Puffer Gilet $179 20% off NOW!
A vest is a good alternative to a jacket as you'll still get the warmth but without the bulk. So perfect for staying indoors really. This stylish gilet from Country Road has a nice belt feature meaning it's a lot dressier than your standard puffer vest.
Zara Checked Puffer Jacket $59.95
The perfect puffer jacket when you don't want anyone knowing you're wearing a puffer jacket! This check style from Zara is a cropped length, bomber style which would work perfectly over your relaxed jogger pants or high waisted jeans. Love it.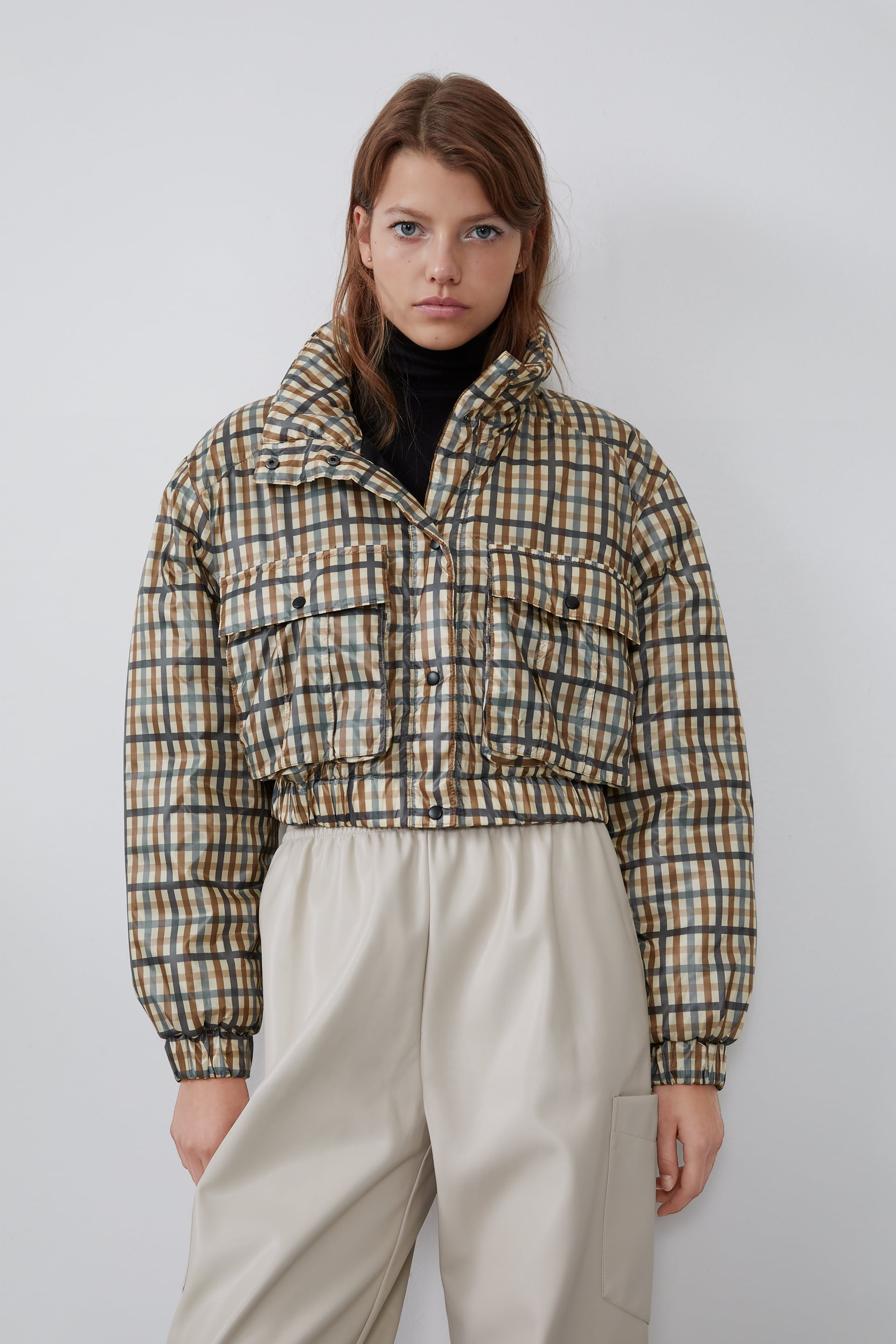 Decjuba D-LUXE Metallic Puffer $139.95 30% off NOW!
Well if you're going to do the puffer thing, why not make it BLING! I actually really love this metallic puffer from Decjuba's D-LUXE range. It's 100% recycled outer is engineered to deliver warmth and protection from the wind and is ultra cool.
Zara Puffer Bomber $99
A classic bomber style that has more of a refined, quilted look rather than a puffer. Simple, classy.
Sportscraft Jay Quilted Vest ON SALE $49! (also in black)
Another great vest option is this long line quilted style from Sportscraft. The features like the waist seam, adjustable drawstring and side pockets gives it a dressy feel and creates a very flattering silhouette, and it also comes in black.
Blue Illusion reversible puffer coat $299.99
Two puffers for the price of one… yes please! This reversible style from Blue Illusion, co-designed by Olivia Newton John herself, is perfect for those wanting to change up their look. Leopard one day, classic black the next. The coat features a removable hood with vegan fur trim, giving this coat an extra luxe feel.
Sportscraft Lottie Quilted Jacket $289.99
If the thought of a chunky, oversized puffer makes you squirm, then consider this classic style from Sportscraft. It has all the elements of the vest featured above, but with sleeves. I love this cream colour too, perfect to pair back with your cream cashmere.
Gorman Tartan Puffer $299
And for those who want to remain bright and colourful in these uncertain times, this Gorman tartan jacket is for you! And why the hell not, you deserve it.
Thanks for reading x