Who doesn't love the ease of a summer dress when the weather is warm and you really don't have much time to plan your outfit? I really feel dresses are having their moment in the sun, despite many of us staying local this summer! But why should that stop us wearing a fabulous summer frock that we'd usually reserve for a seaside resort or island retreat?
Dresses are such an easy item to style and can be super flattering when you know what works for your shape. Following on from my recent summer dress masterclass video I've found you some great current season dresses to SHOP NOW! There are so many amazing styles available in store and online, and now that we can visit a real store it's a great excuse to shop!
THE SHIRT DRESS
As a personal fashion stylist, this is one of my favourite styles not only for it's classic tailoring but its versatility. The shirt dress is a wardrobe staple and can be styled from work to weekend, summer to winter, with the simple update of your accessories.
The shirt dress works on a lot of shapes because of its adjustable waist – you can wear the belt or not, and when you do you can adjust to wear on your natural waist. Choose a length that works for your proportions. If you're petite, you can do a midi style, just select your shoes carefully.
Trenery Linen shirt dress in pink $199 sizes 8-16
Sportscraft linen shirt dress $249.95 sizes 6-18
Assembly Label shirt dress $140 sizes 4-14
Elk shirt dress $279.00 sizes 6-16 (also in white)
THE T-SHIRT DRESS
A great summer casual basic dress to have in the wardrobe for those casual days. Team with a sandal or sneaker (or thongs!) a sun hat and casual cross body bag, and you're pretty well good to go! When the weather cools, simply add your trusty denim jacket and switch your sandals out for your sneakers. Choose a t-shirt style if you prefer to cover your upper arms, or a tank style if you're happy to show off a bit more skin.
Seed striped t-shirt dress $79.95 sizes XXS-XL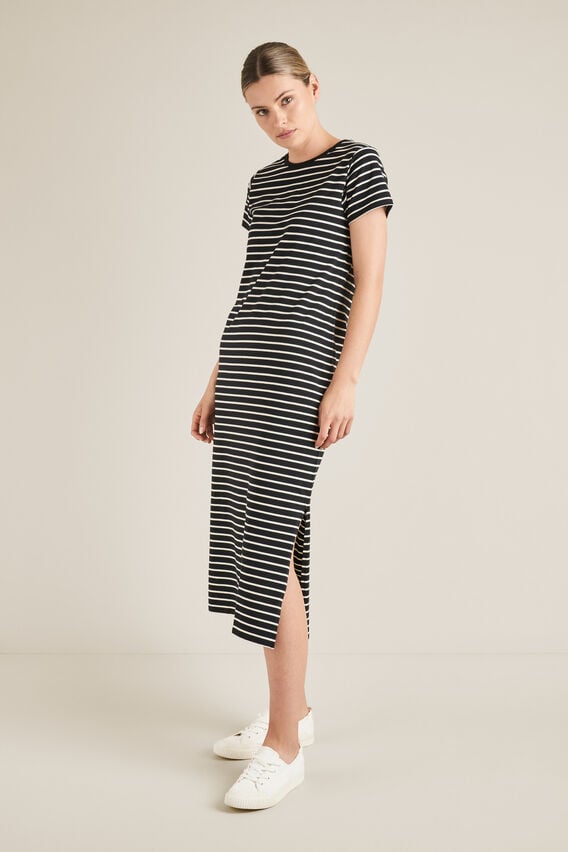 Country Road linen tank dress (more colours) $99.95 XXS-XL
Trenery T-shirt dress $139 XXs-XXL (more colours)
THE LINEN SHIFT
This is a great choice for those of you who carry their weight through the tummy and torso, but are comfortable showing off the legs. The shape of a shift dress skims the torso without any seam cutting the across the waist, meaning the eye's line continues up and down the body (i.e. does not highlight the widest point)
Country Road linen dress (in a few colours) $159 sizes 4-16
Seed Linen flutter sleeve dress (more colours) $129.95 sizes 6-16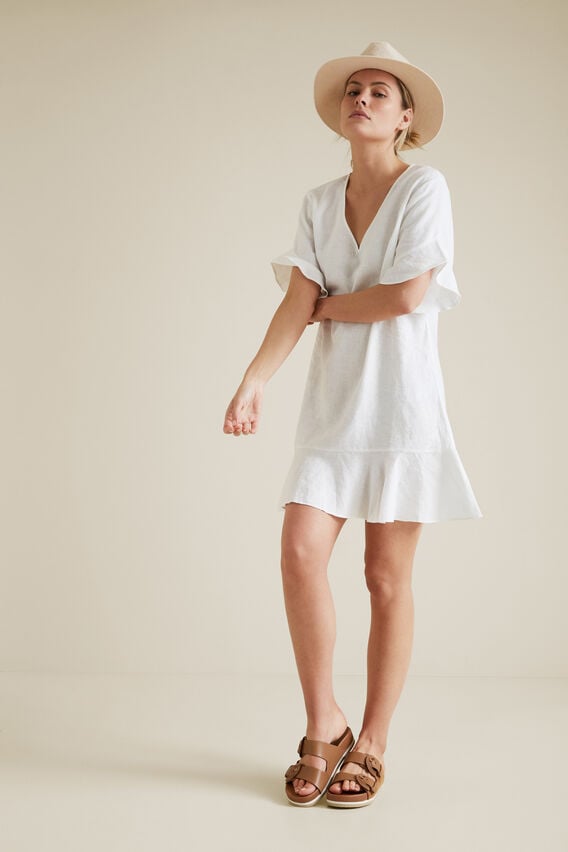 Sportscraft navy linen dress $199.95 sizes 6-24 also in khaki sizes 6-18
Decjuba leaf print linen blend dress $99.95 sizes 8-14
THE A-LINE
Hiding a multitude of sins (or indulgence) an A-line shaped dress is another great style for those wanting to cover their midriffs. This is a fun style that is both comfortable and feminine. Big busts should look for styles with an open neckline or button down option.
Gorman jersey dress sizes $169 4-16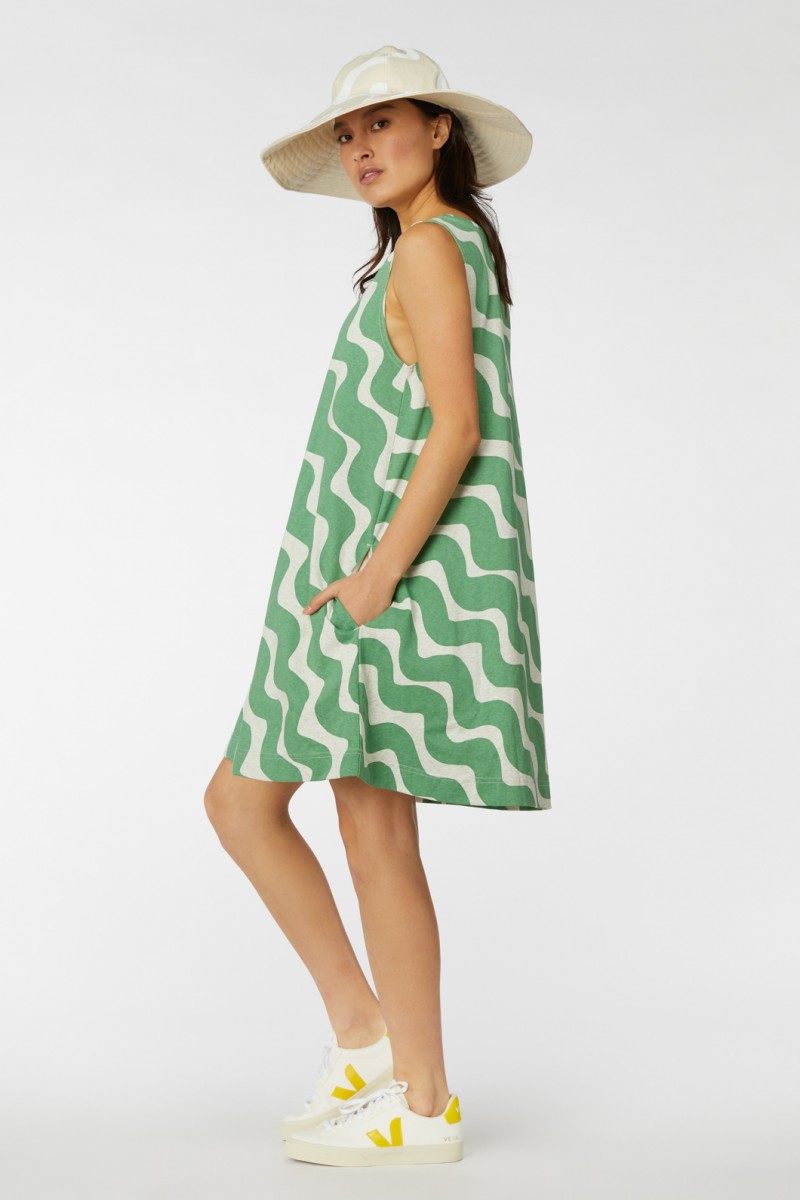 Country Road cheesecloth cotton kaftan (also in black) $99.95 one size
Feathers linen Milan dress $199.99 sizes XS-XXL (in more colours)
Harlow linen animal print dress $259 sizes 12-26
THE MINI DRESS
Although the midi and maxi length are definitely on-trend for the summer 20/21 season, the mini dress is not going anywhere. Some of you feel overwhelmed by a long dress, and why cover those legs if they're your best asset?
Seed polka dot tiered mini $119.95 size 6-14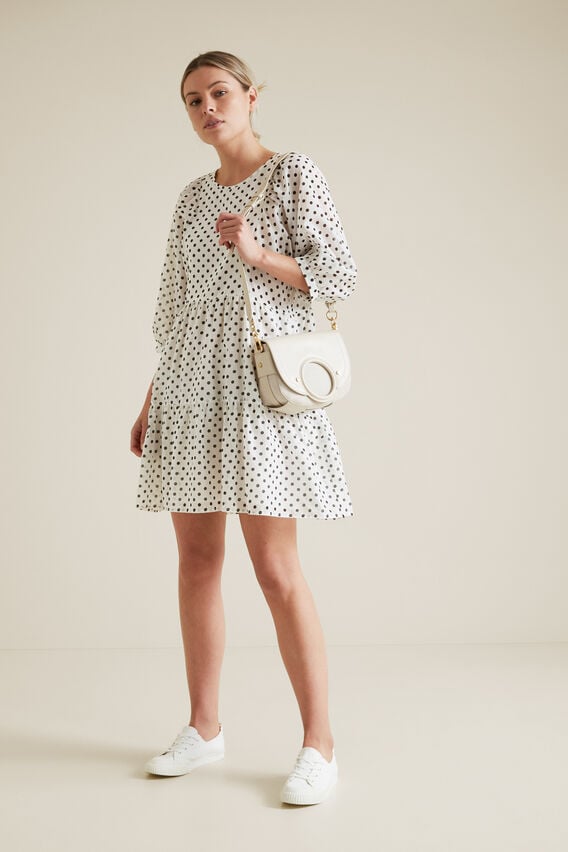 Forever New wrap dress $149.95 sizes 4-16 (in a few colours)
Saba linen mini tiered dress (also in dark olive) $229 XXS-L
Atmos&Here mini dress sizes 18-26 $79.99
THE SUN DRESS
A classic summer style, the sun dress really does epitomise summer styling. Perfect for women who are smaller up top, wider down below (i.e. pear) as it highlights the waist and upper body while creating balance on the lower body.
Decjuba broderie anglaise dress (also in white) $139.95 sizes XS-L
Forever New lemon sun dress $139.99 sizes 4-18
Witchery maxi $169.95 sizes 4-16
Forever New broderie anglaise dress $169.99 sizes 4-16
THE PUFF SLEEVE/SHIRRED SMOCK
Probably the 'IT' dress of the summer, anything with a puff sleeve or a shirred bodice (even better, both!) is very 2020. They offer a feminine feel while providing coverage for the upper arms and can help to create a waist via the empire line cut that nips you in just under the bust… just be careful you don't look too German beer waitress!
Seed cheesecloth puff sleeve dress $139.95 sizes 6-12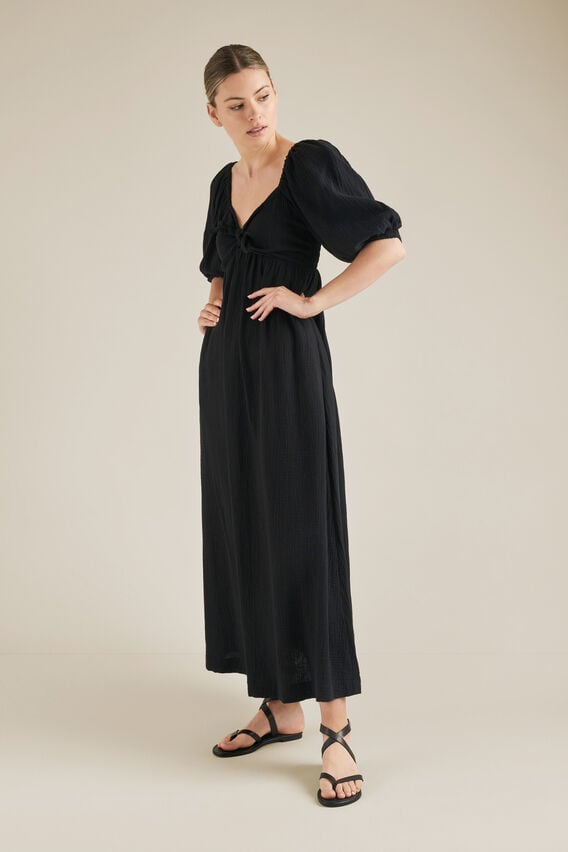 Witchery shirred bodice dress (also in black) $159.95 sizes 4-16
Seed puff sleeve dress $179.95 sizes 6-14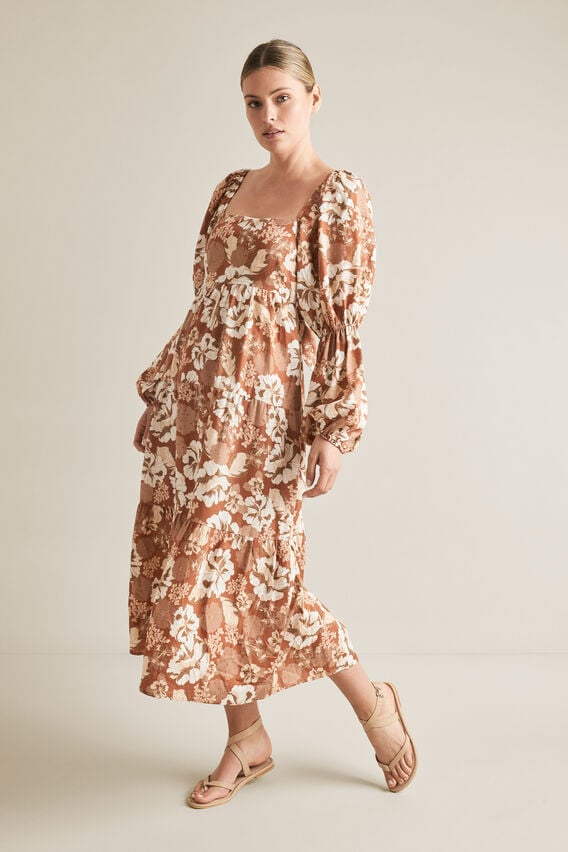 H&M Smocking Detail Dress sizes XS-XL $34.99 (also in black)
Misguided check puff sleeve dress sizes 16-24 $56.00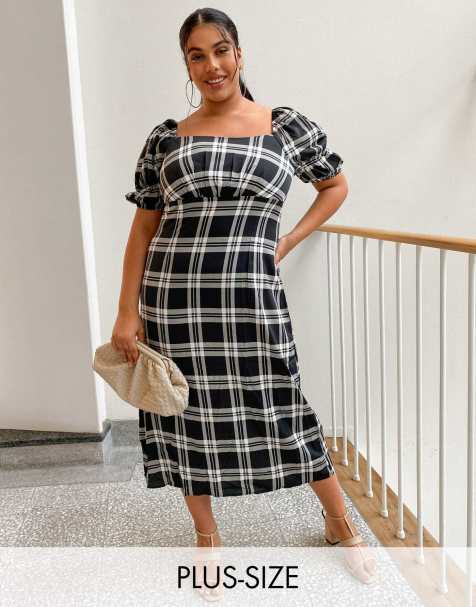 MAXI HALTER
Another summer classic, anything with a halter neck is perfect for accentuating a narrow shoulder OR showing off toned shoulders. I love the balance of the clean shoulder-line with the fullness of the maxi length. If you're happy to show off your arms and shoulders, this style and length can be worn on ANY height.
Witchery yoke tiered maxi (in more colours) $149.95 sizes 6-16
Decjuba tiered maxi $159.95 sizes S-L
Saba pleated halter neck dress sizes 4-14 $399 (also in light blue)
Country Road maxi$199 sizes 4-16
Country Road maxi halter  $179 sizes 4-16