An instant wardrobe update that will also make a bold statement is the check jacket. A classic look that never really goes out of style, but will also elevate your existing wardrobe this season.
I've been featuring the trend over on my Instagram account after a fun styling shoot I did with Skin and Threads. If this is a trend you intend to invest in or already have, here is some inspiration for how to style one jacket three ways. I also want to reiterate the importance of knowing how to get maximum value out of your purchases, and getting bang for your buck.
LOOK 1: Friday Night Drinks
Take your blazer from day to night by adding a feminine blouse and leather pants. Roll up your sleeves and add a sexy pair of leather pants to create a contrasting look. The outfit can be completed with pumps or ankle boots for a night on the town, or for weekends simply add a pair of sneakers and switch the blouse for a classic white t-shirt, and you have a great smart casual look!
STYLING TIPS: I love the contrast of wearing something soft and ladylike with something durable and 'tough'. Mixing fabrics like silk and leather creates a look that is both modern and feminine.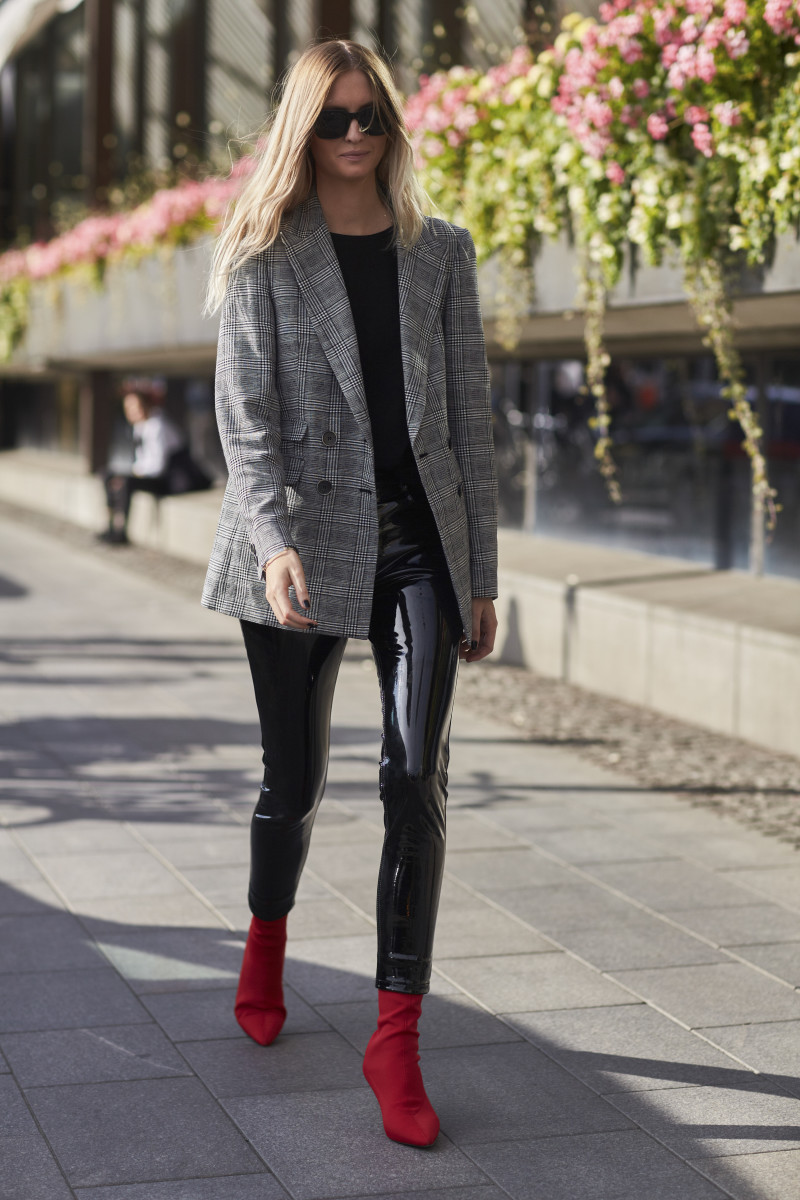 LOOK 2: The Check Suit
Nothing quite screams confidence like a head to toe suit.. a checked suit even more! Don't be afraid to inject some personality into your work wardrobe with a matching jacket and pants.
STYLING TIPS: Let the checks do the talking and keep everything else simple. A merino skivvy is a classic addition to your suiting. I've had my Skin and Threads merino skivvies for 10+ years and love to wear under jackets, coats and jumpers.
LOOK 3: Casual Friday
You can really do so much with a check blazer, including probably my favourite look with jeans and sneakers. Here I've teamed the jacket with drop crotch jeans, a striped long sleeve tee and classic white sneakers from Nine West. Ditch your cardies ladies and invest in a modern jacket that will create a more modern look, but still remain a classic!
STYLING TIPS: scrunch up your jacket sleeves to reveal your forearm or in the case the longer tee underneath. Cropped jeans should sit about an inch or so above the ankle bone to reveal some skin. Apply bronzer or fake tan to ankles like I do in Winter!
1 JACKET, 3 WAYS
Book your Styling Session with us today!
This is NOT a sponsored post.
All Skin and Threads images by Dan Castano. Other images courtesy of Pinterest.