As women we are faced with many decisions in life. How many pairs of shoes is too many, how do I wear ankle boots and should I wear my leggings out of the house?
As a wardrobe stylist and personal shopper with many years of experience, I can answer all of the above for you, but today I'm going to tackle necklines; scoop, crew, boat, v-neck, turtleneck, halter, cowl, off the shoulder, strapless and what works best for your shape.
Necklines come in and out of fashion but right now we're not really seeing any one style dominate the trends. Certain stores seem to stick to the same formula because they know their customer. For example, a brand like Jacqui E loves the V-neck because they know their customers love them too.
V-Neck
Let's just put it straight out there. If you have a generous bust, a V-neck is the most flattering neckline for you. In my experience working as a personal stylist with thousands of women, most women with a larger bust would like to make them look smaller. A V-neck does that.
The key to a flattering neckline for big busts is to break up the distance from chin to the bottom of the bust, meaning a big bust will not only look smaller but appear to sit higher. Wearing a high neckline like a crew neck makes the bust appear like it's sitting low because there's no skin to break up the distance between chin and boob. Make sense?
What's also great about the V-neck is that it's perfect for women who don't have much of a natural waist, or who are heavier in the tummy. A V-neck visually points to the shoulders and waist, drawing the eye in and up. Combine a V-neck with a wrap style and you have one very flattering style for big busts and tummies.
Crew Neck
Unlike what the V-neck does for big boobs, the round neck does wonders for small busts. A high round neckline creates the illusion of a bigger and rounder bust for the opposite reasons mentioned above. If you're small busted and wide shouldered, a sleeveless high neck looks great. It shows off your shoulders and accentuates the bust.
Consider a turtleneck the same as a crew neck. Be cautious if you're generous busted, but great for smaller busts.
Boat Neck
This is a classic neckline that is always in fashion in my opinion. It's sleeker and more sophisticated that its round-neck sister, and again is the perfect style for small busts (especially if you add a horizontal stripe to the mix) Boat necks work quite nicely on narrow shoulders because the horizontal line across the shoulder bone visually points to the shoulders. Again, if you're narrow shouldered add a stripe and that's tick, tick, tick.
Scoop Neck
Much like the V-neck, the scoop is a common neckline that suits bigger busts and is quite sexy and feminine. If you have a great decolletage and lovely skin in this area, a scoop neck is perfect for drawing the eye to your asset. Small busts can work the scoop, as long as you don't go too low. A very deep, low scoop squashes the boobs actually making them look smaller. For big tummies and fuller figures, I would always opt for a V-neck over a scoop when you can. Because a scoop is round, its more likely to visually create a rounder silhouette whereas a V-neck creates angles which are more slimming.
Halter Neck
Warning: if you have big upper arms AVOID! The halter neck cuts away at the shoulders to reveal the shoulders and upper arms and should be avoided at all costs if your upper arms are your trouble spot.
Halter necks however look great on those with narrow shoulders and slim arms, who carry their weight in their lower body. It draws the eye to all your best bits and away from the hips and thighs.
Strapless
Do you know that something like 80% of brides wear a strapless wedding dress for the very first time in their life? And yes I'm guilty of this too (although I had worn few strapless numbers before then) Strapless is a tricky style and doesn't suit most of us. Big boobs, forget it. Unless you have very good posture, toned arms and back, small-ish bust and under 40, leave strapless frocks and such to the youngsters.
Off Shoulder
A style that's definitely trending this summer 21 season, the off shoulder is a great alternative to the strapless for many women. The angles created by the asymmetric neckline are super flattering, and the style allows you to show a bit of skin without feeling too exposed.
Cowl Neck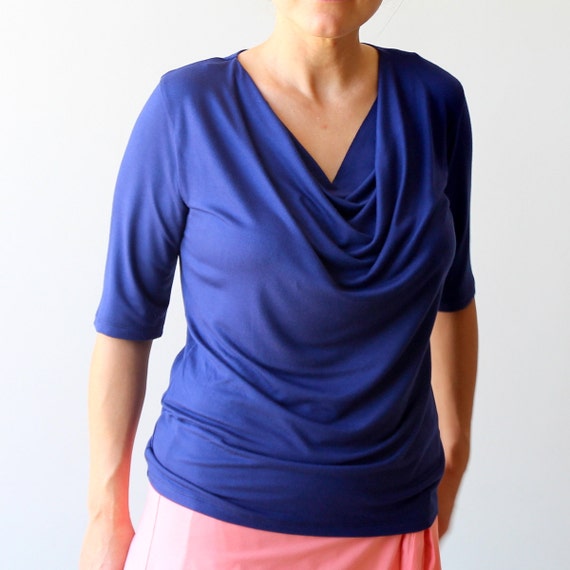 A cowl neck is a feminine neckline and creates a soft drape that visually minimises the bust. The key is to ensure there's not too much fabric in the cowl – we want to minimise the bust not add bulk to it.
A cowl neck is also flattering on shapes that want to camouflage the stomach area. Thanks to the interest of the neckline and drape of the fabric on the body, this style skims rather than clings to any lumps and bumps.
Still not sure what is the best neckline for your shape? Get in touch with us at Styled by Sally to discuss our Personal Stylist Melbourne styling services.